Joshua Bell returns for first New World date in two decades
Joshua Bell has been such a high-profile presence for so long on the international music scene, he's one of those artists that sometimes is taken for granted.
Perhaps his no-drama, all-American-guy persona has something to do with it—as much as his massive and ongoing success, which continues unabated with a string of top-selling recordings, television appearances, bridge-building crossover, and film scores.
Yet every time one encounters Bell on stage or in a new recording, it's manifestly apparent that all the high-powered publicity is not empty hype.  Indeed, in his faultless technique, dynamism, intelligence and -perhaps most strikingly—taste—the perennially youthful 41-year-old from Bloomington, Indiana remains one of the finest and most complete musicians currently before the public.
Violinists are often withering in their opinions of colleagues, particularly those they consider overrated. Yet Bell manages to be universally admired by his peers even in a competitive profession not always known for collegial goodwill.
"He's just a terrific player, point blank," says violinist Lara St. John. "He's got a great sense of style and he's really consistent.  He just never seems to have a bad day." 
Bell's combination of delicacy and powerhouse virtuosity also impresses the Canadian musician. "He's very thoughtful about what he does and yet he's never boring," she adds. "When I need to buy a recording of something, and he has done one, I always get his first."
Joshua Bell will return to Miami Saturday night to perform Saint-Saens with conductor Vladimir Ashkenazy and the New World Symphony at the Adrienne Arsht Center, his first appearance with the orchestra in 21 years. 
In addition to his musical acclaim, Bell is also likely one of the world's few top violinists who can spend the first five minutes of an interview enthusiastically talking football.  A few season back, Bell—a committed Colts and Giants fan—was booked at the Kravis Center the night of the Super Bowl and he helpfully supplied his audience with score updates at intermission and between works.
"That [event] certainly wouldn't have been by my design because I'm a huge football fan," he says with a laugh. "Nowadays I wouldn't do that because a lot of people do what I do—tape the game at home to watch it later—and I don't want to know the score." Last year when the Indianapolis Colts were in a playoff game and he was performing the same night, he asked the audience to please refrain from mentioning the final score after the concert while he was signing autographs. "I was very serious about it. I was taping it in my hotel room and I wanted to watch it after the concert. Inevitably, someone told me."
Football apart, the lack of ego and professionalism that Bell exhibits in interviews belies the live-wire intensity of his music-making. For his regular recital partner, pianist Jeremy Denk, part of Bell's success is attributable to the fact that he is a keen observer with "a startlingly quick mind."
"He notices much more than he ever lets on," writes Denk in an email from on the road. "Josh is intensely concerned with connections in every sense … particularly he is attentive to the cohesion of the phrase, or the movement:  he wants it all to 'tie together,' so the audience can follow the story, so they can be engaged by it, so the action never flags."
Denk also feels his colleague's gifts as a natural communicator always highlight his performances. "He understands pacing and drama and wants to make sure everyone out there can stay with the musical narrative.  Also, of course, Josh has a beautiful sound, and he is not afraid to play softly, to explore dynamic and emotional extremes."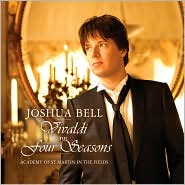 Bell's most recent recording of Vivaldi's omnipresent Four Seasons—his first, amazingly—- is a fine example of his ability to invest even the most familiar music with freshness and excitement. His graceful playing is mindful of Baroque style without  sounding pedantic, and makes the period-versus-modern-instrument debate seem irrelevant.
 In recent years, Bell has performed The Four Seasons frequently, playing and leading the Saint Paul Chamber Orchestra and the Academy of St. Martin in the Fields, the latter ensemble of which is featured on the new recording "I had a great rapport and collaboration with the Academy, and I felt ready to put it on a disc.  They're great chamber musicians and most of them play in string quartets."
Bell says he did not consciously adopt an authenticist approach nor a post-traditional one. "Style, I feel, is not something that should sound self-conscious," he says.  "My style has gradually changed over the years through the influences I've had but it's not something I forced on it. You might call it a mishmash. I don't know what you'd call it.  It's what feels right to me."
While he is grateful for the insights and  historical awareness that the period instrument brigades have provided, Bell believes too often some of its more ascetic proponents tend towards a striving for effect, forcibly grafting Baroque elements upon the music.  "My biggest gripe is that so often it just sounds self conscious. You have the score but the soul is gone."
"It's like acting," he says warming to the subject.  "I'd rather hear an actor portray Shakespeare in a way that just takes me into the character rather than someone who spends all his time making sure they're wearing the right garb and doing it with the exact proper accent from the 16h century.  If that's what you're aware of when you're watching Hamlet, then you're taken out of the story."

Bell is performing the Violin Concerto No. 3 by Camille Saint-Saens, a cornerstone work for much of the last century, yet one that seems to have ebbed in popularity over the last two decades.
He feels the standard violin concert  repertory has changed in the last twenty years and not necessarily for the better. "Some of these great works have been sort of relegated to 'student' concertos," says Bell, "and thought of as not as serious as those of Beethoven and Brahms. I don't like to make those kind of distinctions."
Indeed, for Bell, Saint-Saens remains a favorite composer, and, in his view, even with the French composer's familiarity, a still underrated one.  "I've always had a fondness for Saint-Saens," he says.  "I think everything he did was so well crafted and beautiful.  Always there is a beauty and a logic to his music, and it's just so nice to play and to listen to.  It's real violin virtuosity and it fits the instrument so well."
Bell's teacher, the great Josef Gingold, instilled in him an affection for the unapologetically brilliant fiddle showpieces of the 19th century. "He would approach Wieniawski and Sarasate and Saint-Saens as if it was the greatest piece ever written.  He would take it seriously and find the beauty in it, and not pooh-pooh it."
Bell has recently added to his repertoire Bruch's Scottish Fantasy, another work that has come in for some slighting comments over the years, unfairly in his view. "It's an absolute masterpiece. It's not played as much [as Bruch's G-minor concerto] but I think it's a profound work."
Part of the impact of his performances comes from Bell's extraordinary Gibson Stradivarius. Bronislaw Huberman's twice-stolen instrument has nearly as long and fascinating a history as The Red Violin of the celebrated film for the soundtrack of which Bell supplied the solo playing.
It's been his musical companion for the past seven years and, like most intense relationships, has not been without its difficult moments, including a famous incident in Chicago two seasons ago when the bridge fell apart during a performance of the Tchaikovsky Concerto.
"It's had its ups and downs but right now I'm in a love affair with my instrument," says Bell. "Sometimes, it cooperates and think I have the best instrument on the planet. And there are other days—whether it's weather issues or adjustment issues—when I think I should get a different one. It's like a marriage."
Bell remains single yet is the proud father of a 15-month-old son, Josef Matricardi Bell, named after his teacher. In addition to a daunting schedule of 120 concerts a year, he is following in Gingold's footsteps by recently taking on a new role, as teacher, at his alma mater Indiana University in Bloomington.
   "It's just a couple of weeks a year, but, hopefully that will expand as I get older," he says.  "It's very cool. I have great memories of the university and I owe them a lot. I grew up just down the street and being exposed to the great teachers and performers changed my life."
As a teacher, he would like to continue in the same mould as his mentor, not controlling his students but making sure they are exposed to other influences and enabling them to find their own musical voices in their own way.
"It's like with parents," Bell says. "You're affected by your parents, but then you become your own person with your own values. Gingold always encouraged his students to play for other people, and all of his students sound different."
As with previous films in which he performed on the soundtracks like The Red Violin, Ladies in Lavender and Music of the Heart—-in which he was also featured on-screen—-Bell can be heard on the soundtrack of the new Daniel Craig film, Defiance, mention of which again brings up a nexus between music and acting,
"I think there's definitely a strong analogy," says Bell.  "An actor makes people believe that they're really saying these things and not reciting something they've studied.  And in music it should always sound like you're inventing something as you play."
"There's a trick to it," he adds.  "It's a hard thing to pull off.  It's boring if people feel like you spent hours in the practice room and you're just showing them something you've learned. You really have to bring it to life."   
Joshua Bell performs Saint-Saens' Violin Concerto No. 3 with conductor Vladimir Ashkenazy and the New World Symphony 8 p.m. Saturday at the Adrienne Arsht Center's Knight Concert Hall. The program also includes Mahler's Symphony  No. 1  305-673-3331; www.nws.edu.
Posted in Articles
---
Leave a Comment