New World serves up a mixed bag of Baroque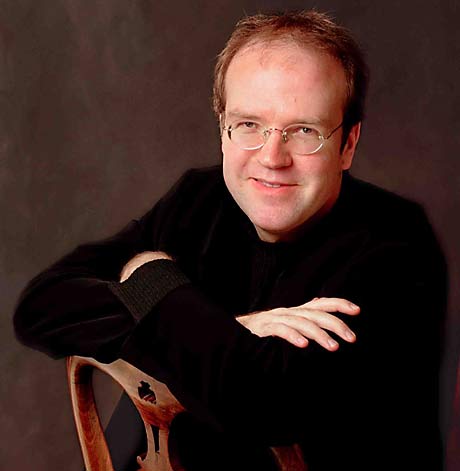 It's been a packed week for early music and Baroque enthusiasts. The Miami Bach Society served up a varied lineup at the Tropical Baroque Music Festival and Saturday night, the New World Symphony did its part with an evening devoted to Handel.
The German composer is hardly a neglected figure, but conductor Bernard Labadie (above) avoided the usual Handelian suspects, presenting a generous, quirky program of vocal and orchestral selections that provided rather mixed rewards.
It was certainly good to have Labadie back after a three-year absence, accompanied once again by his Les Violons du Roy colleagues, concertmaster Nicole Trotier and harpsichordist Richard Pare. The Canadian conductor is an inspired Baroque stylist as well as a fine podium master of ceremonies, providing informed introductions and deftly converting the New World members into an admirable period band. The players showed their flexibility, easily assimilating the elements of sparing vibrato, springy rhythms and lithe textures, with especially nimble, stylish playing by oboists Alison Chung and Monica Fosnaugh.
Though two guest soloists were in the spotlight, it was the New World that provided the finest moments Saturday. Labadie directed vital and bracing performances of varied opera and oratorio excerpts, bringing a delicious lilt to the minuet from Samson, and the four horns making a mostly majestic sound in the Sinfonia from Act 3 of Giulio Cesare.
Labadie's leadership was at its best in a vividly characterized suite of excerpts from the opera, Alcina. Under his baton the musicians brought rhythmic lift to the minuets, an apt lulling delicacy to the Entrance of the Pleasant Dreams , daunting minor-key angularity to the contrasting Nightmares and violent frenzy to the nocturnal spirits' incipient Battle.
You have to admire Labadie's courage in presenting countertenor David Hansen in the voice-bleaching Lincoln Theatre, a hall that has defeated vocal instruments much larger than this. As always, a large asterisk must accompany any comment on singers in this problematic venue.
The young Australian (left) has a slender, agile countertenor, and brought refined feeling to O Lord, whose mercies numberless from Saul and apt fervor to military arias from Alexander Balus, Rodelinda and Giulio Cesare, the last not aided by a shaky obbligato horn in Va tacito.
Yet Saturday Hansen's light countertenor emerged decidedly wan and colorless with a jarring stridency on top, which made for rather monochrome results despite the clear effort he was putting into his singing.
Handel's Organ Concertos are not exactly bravura solo barnburners, cast in a more intimate style. Pare's performance of the Organ Concerto in G minor, rendered on an electronic chamber organ, was tasteful and properly scaled. But even allowing for the non-showy nature of this music, there was more than a whiff of academic dryness, with Pare's solo playing so reticent as to virtually disappear, not helped by some digital slips and rhythmic unsteadiness.
The program will be repeated 3 p.m. Sunday at the Lincoln Theatre. 305-673-3331; www.nws.edu.
Posted in Performances
---
Leave a Comment